November 9, 2017
Valerie Gorsuch, April's Fool Comedy Improv Troupe
by Michael Hixon
Jackie's guest: Valerie Gorsuch from April's Fools Comedy Improve Troupe.
Valerie Gorsuch is a SAG/AFTRA actor appearing in film, television, theater, music videos and commercials. She's usually type cast as a murderer, whether killing hit men, children or even herself. She has appeared on the MTV series "Warren the Ape," but her favorite role is being grandmother. Her motto, which is fairly evident, is "Dare to Suck!" Check out her movies on YouTube and Facebook and IMBD.
April's Fools Comedy Improve Troupe is a group of eclectic, electric, and, yes, sometimes even eccentric souls all concentrating on making people laugh. Members have studied improvisation and acting around the world to hone their craft and wit to the cutting edge of humor. They perform monthly at the Second Story Theater in Hermosa Beach every second Saturday at 7:30 p.m.
In this interview, get the back story on how the group formed and what makes them so funny.
Click here for the complete interview.
November 8, 2017
Funny business with Sandy Marchese of April's Fools
by Bondo Wyszpolski, Easy Reader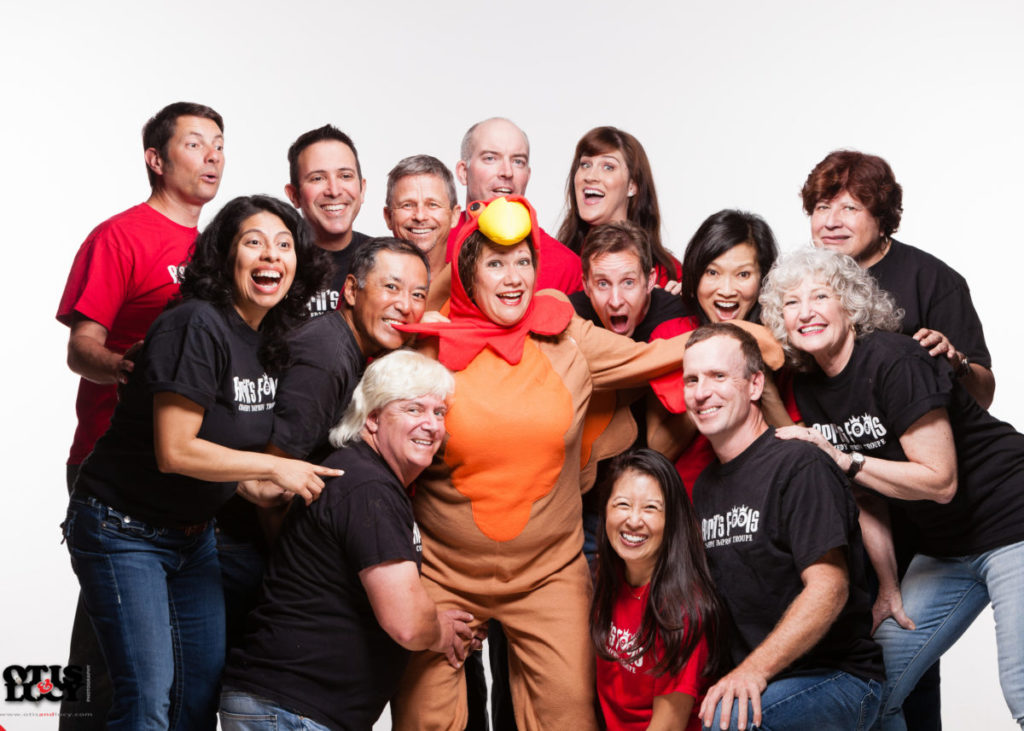 Sometimes, when you ask a member of a group to describe what it is they do, there is a lot of hemming and hawing, false starts and detours, but Sandy Marchese puts it all in a nutshell:
"April's Fools Comedy Improv Troupe got started around 2000, and has been performing in the South Bay consistently throughout the years, the last 10 years at Second Story Theatre in Hermosa Beach on the second Saturday of the month at 7:30. The troupe right now has 15 members and it represents most of the South Bay – the Beach Cities, Torrance, et cetera."
That could be the most information-packed paragraph in this entire newspaper, but why quit while we're ahead?
Anyway, what happened 17-plus years ago that culminated with a group of comedians still going strong today?
"Most of us took classes from (the late) Gloria Policare," Marchese replies, "who was a really respected improv teacher. We met through that and ended up starting our own troupe. I think we're one of the oldest troupes around. The members have professional daytime jobs and businesses; some are actors and a few are retired people."
She notes that April Scott and Mike Stern were the founding members of April's Fools Comedy Improv Troupe, but I'm guessing that Mike's Fools lost out by a slim margin to April's Fools. It just lacked a certain… something. Fast forward to 2017 and, along with Marchese, Valerie Gorsuch and Doris Usui have been with the troupe since close to day one.
That's not to say everyone in the ensemble is getting senior discounts at Walgreens.
"We have a wide range of ages, late 20s and into the 70s," Marchese says. "So, for a troupe or any group to have that kind of mixture – male, female, a range of ages, different ethnicities, it's just a pleasure to be around."
But wait, we haven't really explained what it is the troupe does.
STAYING IN THE MOMENT
"Improv itself (involves) taking suggestions from the audience and doing comedy in the moment. So, it's not scripted: What you see on the stage is fresh right then, and it's basically being created in front of your eyes."
As for the kind of humor one can expect:
"It runs the gamut," Marchese replies. "If there's something in the news quite often it can be interspersed. We try to make people laugh at things rather than poking things. We don't take a political side, so whatever is going on we could be on either side, or maybe the show is on both sides at the same time."
But can we bring our great-grandmother Ethel? Or will her ears turn red and catch fire?
"Most of the shows are family-friendly,"Marchese says, quickly dousing any potential flames. "Occasionally if there's one that's not family-friendly we disclose that ahead of time." (Look for the skull and crossbones or the finger sliding slowly across the neck.) "But usually even kids, I would say 10 and above, will enjoy the comedy."
The shows are usually themed (4th of July, St. Patrick's Day, and so on; this past summer the group performed a Hawaiian-themed show). The one this coming Saturday is entitled "Turkey, Friends & Fools" (written by trouper Valerie Gorsuch), and I'm guessing it has to do with the bird and not the country.
"Additionally, during the November show, we are also doing a sketch," Marchese says, letting the cat out of the bag. "Sometimes we do a sketch in between the improvs, and a sketch is actually a written short scene. Also in the November show we will be featuring a few scenes with some seniors. Two of the April's Fools members, myself and Doris Usui, have been teaching (a comedy improv workshop) over 10 years in Manhattan Beach (through the Parks and Recreation Dept.)."
I guess you can't have rehearsals, because it's improv, but do you meet up apart from when you're all on stage together?
"We meet up because you need to work with each other so that you're really comfortable" with other members of the troupe and, I'm surmising here, each person's particular sense of humor. "Also," Marchese continues, "we work on technique and characters. One of the important things of improv is staying in the moment and not trying to preplan."
As one might imagine, this is a kind of exercise, and also something that keeps a person on their toes, especially those who work in theater or in film.
"The actors find that improv is necessary because when they do auditions," Marchese says, "quite often they have to improv the material because it's not totally written at that point. Also, Doris and I have found over the years, when we teach our older adults, that it keeps them engaged and mentally agile." Lastly, she adds, "I think for everybody that improv is really good (because) it can be used (anytime, anywhere), whether it's in business presentations or just daily life."
ADDING THEIR OWN TOUCH
"The directors for the show are various members of the cast," Marchese explains, "depending on what month and on people's schedules, and sometimes there'll be co-directors."
In other words, anyone could be in charge in any given month. But what would one director do that sets him or her apart from another?
"A director could be more into music and tie more music in with the show," Marchese responds. "One director we had loved including some dance because they were more choreography-driven."
It's kind of a small space for dancing in.
"Yes." Marchese pauses. "We can make ourselves big in a small space. The theme of the show, how the show flows, the interaction with the audience, is all director-driven.
"I'm directing the November show, Doris is directing the December show, and the December show is going to be a 'Comedy Sportz Show.' We're actually doing a little competition on stage between April's Fools and Mira Costa High School improv students, so it'll be really fun."
WOMAN OF THE YEAR, TOO
So, is Sandy Marchese an actor, a comedian, or a writer of sitcoms?
"I come from a corporate background," she explains. She's lived in Redondo Beach, and in the same house which has an impressive view of the ocean, since 1991.
"When I retired from corporate I started getting involved in the community in different ways. I'm currently on the Redondo Beach Public Safety Commission." She pauses for a moment. "I ran unsuccessfully for City Council in '15." Nonetheless, "In July I was named Woman of the Year for Redondo by the Chamber of Commerce and Visitors Bureau. I was President of Redondo Beach CERT (Community Emergency Response Team) for two years, and headed up all the volunteers that came down and cleaned the fish from the harbor when it was fish-infested. I was a volunteer in policing for Redondo Beach for a few years, and I currently work for the Palos Verdes Estates Police Department on a part-time basis."
Clearly that's a more serious and profound side to a woman who steeps herself in humor.
"I got into improv in 1999," Marchese says, referring back to the class with Gloria Policare. "It was kind of a bug that if you enjoy it you want to do more of it. It's almost an addiction of choice, but it's a clean, good fun."
APRIL'S FOOLS COMEDY IMPROV TROUPE, which additionally does charity events, corporate events, as well as private parties, presents "Turkey, Friends & Fools" at 7:30 p.m. on Saturday at the Second Story Theatre, 710 Pier Ave., Hermosa Beach. It's a small, intimate venue, conducive for interacting with the audience. Besides Sandy Marchese, the performers this month include Doris Usui, Valerie Gorsuch, Tom Bauer, Lloyd Leifer, Rick Ramirez, and Rashel Mereness. The keyboardist is Bob Mitchell, with special guests the Joslyn Jokers. Tickets, $10 general; $8 seniors and kids. (310) 318-1705, email Foolstickets@aol.com (for a ticket discount), or go to AprilsFoolsImprov.com. ER
April 9, 2016
April's Fools presents the 19th Annual Lip Sync Off
by Michael Hixon
Hermosa Beach's comedy improv troupe is at it again with "April's Fools presents The 19th Annual Lip Sync Off," which take place Saturday, April 9, beginning at 7:30 p.m.
The Annual Lip Sync Off, also known as "The ALSO," has become a virtual institution in the South Bay," cites the show's director, known only by three capital letters: IRV. This year's competition features performers not only from across the country but across the globe—as far away as the Middle East and as close as Los Angeles' San Fernando Valley.
One of the tenets of the show is that the winner of the previous year is called upon to host the following one.
"Since I won last year," IRV said, "I wasn't able to compete this year and was saddled with the 'honor' of hosting. Not that I'm complaining. And, since [the voting] was so close between me and Gina (Pesapane) last year, I called on her to co-direct this year's show."
The "ALSO" is a trimmed down version of the genre, relying on stronger syncing skills and not relying on elaborate sets, costuming and back-up dancers.
"Unlike those big studio productions, ours is a much purer art form," says Pesapane. "The goal is to fill the stage with character and charisma, resulting in a higher quality of performance. We're very proud of what we have accomplished with these shows."
Audience members might recognize some similar elements to television shows of the past and present. But IRV is quick to dismiss those comparisons. "If you do the math, the 1st Annual Lip Sync Off would have occurred well ahead of the current wave of televised competitions. As far as I'm concerned, we are way behind the craze of the 80's, and effectively spearheading the current syncing renaissance."
The Lip Sync Off takes place at the 2nd Story Theatre, located at 710 Pier Ave. in Hermosa Beach.
Tickets are $10, and are available at the box office or can be purchased at aprilsfoolsimprov.com.
Hermosa Beach librarian brings in grownups with comedy, cooking demos
by Eric Michael Stitt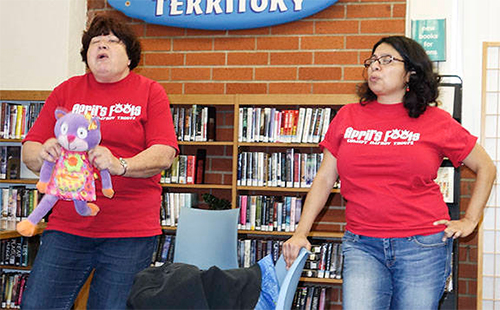 Seeing a bunch of adults at the library is about as common as a loud reading corner or stacks of disorganized books. And having them stick around longer than to checkout their child's book can be a challenge.
That's why the Hermosa Beach Library has been pushing for more adult activities such as a special comedy show this Saturday that's bound to introduce grownups to an appealing side of the library they never knew existed.
Hermosa Beach Adult Services Librarian Lydia Wang has worked at the H.B. location for almost three years and wanted to bring more adults into the library. In November of 2013 she organized a German culture show and has followed that up with various events such as a Mexican food cooking demonstration, an author talk, a magic show and a reading bingo program. This Saturday she's hoping to have folks laughing out loud when the April's Fools Comedy Improv Troupe puts on a family-friendly show from 2 to 3 p.m.
"Every Valentine's Day I want to do a program that makes people laugh and happy," Wang said. "We want to bring the community together and the library is a place to (do that) … we want to reach out to people who don't come to the library … we're creating entertainment so it's fun to come (here)."
The April's Fools Comedy Improv Troupe performs regularly at the Hermosa Beach 2nd Story Theatre. And Lorna Silva, of April's Fools, said they were thrilled when approached about performing at the library.
"I think it's wonderful to (perform) in a nontraditional setting. It's opening us up to people who might not have come to a theater," said Silva, a Manhattan Beach resident.
About half a dozen comedians will showcase their talents, Wang said. She's asked them to tie in a classic book for the show. Silva said they're looking forward to asking the audience to select from a compilation of iconic plays from the 20th century.
"It's definitely exciting. I love it. It's always fun to engage with people—for the show to work, we need audience participation," Silva said. "I love the idea of bringing together the arts and literature, and see words in a book come to life."
April's Fools member Dave Fulton said libraries have a special place in everyone's memories, and he's thrilled to offer theatre amongst the books. He said their show will certainly present a newfound love for how adults view the library.
"Improv is always fun because it's always different. We're creating theater from suggestions from the audience," said Fulton, a Hermosa Beach resident. "It's great to give back to the community with a free show. Hopefully some will want to come see us at the 2nd Story Theatre."
The Hermosa Beach Friends of the Library is a co-sponsor for the improv show, and Wang said they're always quick to make sure such events are a success. HBFOL chair Howard Seeb said the organization's members are ecstatic to help bring more people into the library by any means.
"That's why we do it," Seeb said. "We're there to support the library and do services for the community."
Wang said these types of programs entice adults to view their library in another light. She's already seeing the benefits, as she reminisced about a lady who hadn't been in the library since elementary school, but came to enjoy a recent program.
Wang is planning a weight-watch challenge and a Japanese cooking demonstration this spring and possibly having a greeting card design class, a lecture on bird watching and cake decorating tips—all in hopes of bringing in adults, whether they're parents, empty-nesters or seniors.
"It's important we have something for adults, (so) come check it out," Wang said.
The Hermosa Beach Library is located at 550 Pier Ave. For more information, call (310) 379-8475.
Reindeer confessional in Hermosa: April's Fools Comedy Troupe brings 'Confessions of the Eight' for three nights to the 2nd Story Theater in Hermosa Beach
by Michael Hixon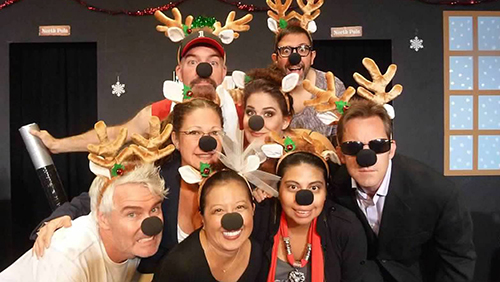 The reindeer at the North Pole are holding nothing back in the tell-all, "Confessions of the Eight," a comedic spin on Jeff Goode's "The Eight Reindeer Monologues." April's Fools Comedy Troupe brings back the show for three nights beginning Thursday, Dec. 10.
"Confessions of the Eight" combines the group's improv experience with the scripted format that April's Fools first brought to the stage last year after nearly 20 years of entertaining the South Bay. But this is the first time they are performing a show for three nights, Dec. 10, 11 and 12.
"December can always be a difficult month to get people out," said director Sean Hannaway, who is also performing in the show. "Last year I said, 'Let's do something different.' People were really open to it … when the one show was done last year, everybody was so upset because they said we want to do more of this. We just don't want only one night."
In "Confessions of the Eight," Vixen has done a tell-all interview that is related to the dark underside of the North Pole. The show is for audiences 13 and older due to its adult content.
"Everything you thought you knew about what's going on at the North Pole is wrong," said Hannaway, who lives in Manhattan Beach.
April's Fools is comprised of 20 members who all live in the South Bay. Many of the original members first met in improv classes taught by Gloria Policare of the South Bay Adult School.
"She had this love for improv that caught more and more people … it became this kind of movement, 'okay, let's get together," Hannaway said.
April's Fools performs both short and long-form improv, which is tailored to the audience, whether children or adults. They get many repeat audience members because the actors feed off the audience and the routines are generated from their participation.
"That is the most fun part of it, get a suggestion from them and see it pay off as you go through the scene," Hannaway said. "You start off with this suggestion and you don't know where it's going to go to and then you end a scene and you created something that didn't exist right before you started. You created this small world, which you can play in, which the audience can see … it's magical when you do that"
April's Fools had its start in Palos Verdes, performing every three or four months, before they moved to the 2nd Story Theater in Hermosa Beach seven years ago. They now perform the second Saturday of every month.
Laughter in the Neighborhood
by Local Contributor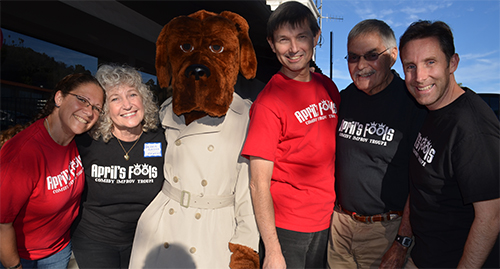 The Palos Verdes Estates Neighborhood Watch celebrated its 35th anniversary on Sunday, November 8, 2015 with a celebration at City Hall. To make the event even more festive they asked April's Fools Comedy Improv Troupe to provide entertainment.
Gina Pesapane, Mike Wyman, Brian Weir and Jim Sheekey volunteered their time, performing a Neighborhood Watch themed show, directed by Valerie Gorsuch. Brian and Valerie are both residents of the city, with Valerie having been involved as a Block Captain in Neighborhood Watch for many years.
Even the audience took up the city theme by inventing a title for an improv called "Death to the Peacocks!"
McGruff the Crime Dog welcomed the arrival of the troupe! So remember: "See something, say something!"
Lip-Sync Off for Laughs
by Local Contributor
April's Fools puts its comedic spin on singing competitions with the 18th Annual "Lip-Sync Off," which takes place Saturday, March 14, beginning at 7:30 p.m., at the Second Story Theater in Hermosa Beach.
"The 'Lip-Sync Off' gives a behind the scenes look at singing competitions and lets us show off our improv and lip sync capabilities" said Sean Hannaway of the Fools. "There is controversy at the 18th Annual 'Lip-Sync Off' with hosts and contestants competing for the top prize. Come see who wins or better yet just see the dirt fly."
The Second Story Theater is located at 710 Pier Ave and is for audiences 13 and older due to some adult content. Tickets are $10 and can be bought at the door or at aprilsfoolsimprov.com.
April's Fools also offers one-day comedy improv workshops at the Hermosa Beach Community Center in Hermosa Beach. They will run throughout the spring and summer and are on the first Saturday of every month. Classes are open to all ages and no experience is necessary to attend.
For more information www.hermosabch.org
Reindeer Games: April's Fools' 'Confessions'
by Michael Hixon
April's Fools Comedy Troupe puts a comedic spin on Jeff Goode's "The Eight Reindeer Monologues" with its first non-improv Christmas show, "The Confessions of the Eight," which takes place Saturday, Dec. 13, beginning at 7:30 p.m. at the 2nd Story Theatre in Hermosa Beach.

"'Confession of the Eight' combines our improv talent in a scripted format that offers a hilarious Christmas tale," said Sean Hannaway of the Fools. "Everything you thought you knew about what's going on at the North Pole is wrong. The Fools tell it like it is in this adult, tell-all reindeer expose."
The show is for audiences 13 and older due to its adult content.
The Second Story Theater is located at 710 Pier Ave. Tickets are $10.
April's Fools are offering comedy improv classes for adults 18 and older beginning Jan. 27, at the Joslyn Community Center in Manhattan Beach. Classes are four or eight weeks long and take place Tuesdays from 7 to 9 p.m. Comedy improv classes for adults 55 and older begin Jan. 26, and are also four or eight weeks in length. Classes take place Mondays from 4 to 6 p.m. No experience is necessary. For more information, visit citymb.info, call (310) 318-1705, or email classes@aprilsfoolsimprov.com.
For more information, visit www.aprilsfoolsimprov.com, or call (310) 318-1705.
April's Fools Are Boston Strong!
by Local Contributor
Top (L-R): Brian Weir, Sean Hannaway, Rick Ramirez (guest), Valerie Gorsuch, Sandy Marchese, Dave Fulton (guest); Bottom (L-R): Jim Micali, Doris Usui, Aki Umemoto, Jeanetta Lee Findleton
The improv troupe known as April's Fools turned its May show into a fundraiser for One Fund Boston raising over $1,100 to benefit the victims of the Boston Marathon bombings. "The troupe felt strongly that they wanted to make a statement in support of all the victims of this terrible tragedy," said Boston native and co-director Sean Hannaway. "This tragedy affected the whole country and we had specific interest to support a local runner from Redondo Beach that was injured in the bombings," he added.
One Fund Boston was set up specifically to provide financial support to the victims and to date has raised over $30 Million. April's Fools made a point of thanking everybody who came out for the show and supported the event, including their sponsors Buona Vita, Thai Top, and SBH Marketing as well as many other contributors. Hannaway seemed to speak on behalf of everyone present at the show when he stated, "Our thoughts and prayers go out to all the victims and the long recovery they have ahead." The troupe wore special T-shirts that asked the rhetorical question, "Who says we are 3,000 miles away!"
April's Fools Comedy Improv Troupe performs monthly in Hermosa Beach's 2nd Story Theater. For more information, visit www.aprilsfoolsimprov.com.
To support One Fund Boston, please visit www.onefundboston.org.
Beach Cities Rally with Goldie Hawn to Become the First Blue Zones Community
by Miranda Bauer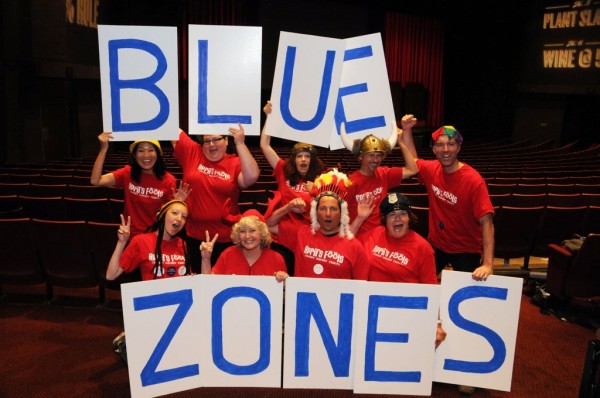 Nearly 950 people attended the latest Blue Zones Project rally held on Wednesday night in Redondo Beach, one of the three California Beach Cities on the road to becoming a Blue Zones Community™. Goldie Hawn, actress and founder of the Hawn Foundation and MindUP™ program joined National Geographic Fellow, Dan Buettner, to kick off the Blue Zones Project initiative, where environmental and policy changes are being used to push residents to practice a healthier lifestyle with the goal of living longer and raising well-being!
The Blue Zones Project initiative is backed by evidence-based research, and spurred by Buettner's findings on the lifestyle habits of people living in the world's five Blue Zones, places with an extraordinarily high frequency of people who live over the age of 100 while actively maintaining their health.
Hawn's MindUP™ program is a signature education initiative designed to help students manage their emotions and behaviors, reduce stress, sharpen concentration and increase empathy and optimism, which cultivates well-being and emotional balance. This better prepares them for success, both inside the classroom and out. MindUP™ has been delivered to 5,499 students and 210 classrooms in the Beach Cities.
Photos taken by Deirdre Davidson

The 90-minute rally was an amazing success! Thanks to the 950 citizens who participated and Healthways Greg Stielstra for moderating the event! The kickoff started with the Blue Zones Expo, where Hawn and Buettner explained the steps to becoming a Blue Zones Community and highlighted community success stories.

The rally ended with the presentation of two $500 awards: the Spirit Award, won by the April Fools Comedy Improv Troupe and the award for bringing the most attendees, awarded to the Redondo Beach Unified School District. Community organizations also participated in raffle giveaways for a variety of prizes, including a Beach Cruiser!
Fools for Laughter
by Michael Hixon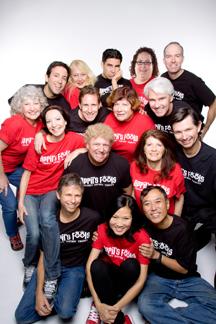 The April's Fools comedy improv troupe will celebrate its fifth year making people laugh in Hermosa Beach on Sat., Feb. 11, with an anniversary show at the Second Story Theatre.
Directed by Jo Donovan and Valerie Gorsuch, "Five Foolish Years in Hermosa Beach," starts at 7:30 p.m. and includes the same cast of characters that have also performed from The Improv to The Comedy Store in its 12-year history.
April's Fools perform both short and long-form improv, which is tailored to the audience, whether children or adults. They get many repeat audience members because the actors feed off the audience and the routines are generated from their participation.
"Five years of improv in Hermosa Beach, and never the same show twice," Gorsuch said.
"The troupe operates on the simplest basic concept that the truth is funny," said co-founder Michael Sloan, a Redondo Beach resident. "We find the jokes from our personal experiences, and in the reality of the moment. Through spontaneity and creativity, April's Fools is always engaged in the process of rediscovery on the stage."
Sean Hannaway, a Manhattan Beach resident and troupe member, said April's Fools is a "perfect combination of excitement and terror."
"You stand on stage with a clear mind and pray that something, anything comes to it," Hannaway said. "Thankfully in most cases we not only come up with something, but it turns out to be funny."
Prior to the formation of April's Fools, many of the original members first met in an improv classes taught by the late Gloria Policare at the South Bay Adult School.
"Fifteen years later we're still together," Donovan said. "I'm glad we have been able to spend the last five years in Hermosa Beach, sharing our talent with the community."
April's Fools performed numerous shows at the PV Players before the Players went defunct. They have also performed at The Improv, The Comedy Store, Second City, Westside Eclectic, McCadden Place Theater and Piera Dusa 3rd Street Promenade Theater. Members of the troupe have been in feature and short films on Fox, Showtime and the Lifetime Network. Many of the troupe members are professional actors of stage and screen and comedy teachers.
Redondo Beach resident Sandy Marchese and fellow April's Fools member and Manhattan Beach resident Doris Usui teach improv comedy classes through Hermosa Beach and Manhattan Beach Parks and Recreation. According to Usui, free classes are available Tues., Feb. 28 for adults and Wed., Feb. 29, for teens in Hermosa Beach.
But members of the troupe said there is one big reason why they have reached the milestone. "The troupe thanks all our fans for their support and laughter," Marchese said.
Tickets are $10, or for a discount buy at AprilsFoolsImprov.com.
For more information, call (310) 318-1705 or email foolstickets@aol.com.
The 2nd Story Theatre is located at 710 Pier Ave.